Recent months have seen Grubb lab representation all over the place.  Matt and Elisa attended the annual FENS Kavli Scholars meeting at Chicheley Hall in April, where Elisa got to both present her latest stuff and come up with a bonkers grant proposal.  At the recent FENS Forum in Copenhagen, Adna and Elisa were kept nice and busy at their excellent poster presentations. Matt chipped in too with a panel discussion on Open Science at the CHET committee 'Code of Conduct and Ethics in Science' event, as well as doing lots of FKNE-based business.  Everyone got caught in the rain.  And Matt just presented at the UKSN meeting in Cambridge, in an excellent olfactory neurophysiology session.
More FKNE-based interactions resulted in Matt co-authoring another Editorial article in EJN, this time on mobility for junior researchers – you can find that here.  You can also read about our exciting new epigenetics project on the Leverhulme Trust site and on the Centre webpage.
We've started expanding the lab, welcoming Marcela Lipovsek to the team as a senior post-doc working on that same Leverhulme-funded collaborative neuro-epigenetics project.  She's ordered some new pipettes already, and clearly means business…  We have more appointments to come – look out for a new post-doc position to be advertised very soon!
Existing lab members have been super busy.  Special congratulations to Adna, who successfully passed her PhD viva exam, has had her thesis corrections approved, and is now Dr Dumitrescu!  She's also currently teaching on the CAJAL Advanced Neuroscience Training Course in Neuronal Cell Biology: Cytoskeleton and Trafficking in Bordeaux.  Elisa has been bouncing between London & Boston, not only taking full part in the April FKNE meeting and presenting at FENS, but also securing a funded position on the prestigious Imaging Structure & Function in the Nervous System course at Cold Spring Harbor.  Unfortunately for us, but fortunately for her project, she'll now be in Boston until Christmas.  Both Chris and Darren presented well-received posters at the Guy's Campus Postgraduate Research Symposium, and competed in the KCL heats of the Three-minute thesis competition, with Chris getting all the way to the local final!  And Candida did exceptionally well in her BSc project – so well in fact that she's currently working with us in a funded summer placement.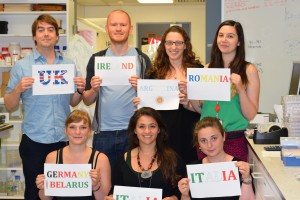 Notice all those foreign names in this and other News pieces?  Needless to say the entire Grubb lab was devastated by the recent Brexit vote.  Just in case we needed any further proof that leaving the EU will make it more difficult for us to do our jobs, here's our contribution to the #WeAreInternational movement – note that Matt's the only British person in the team, and now wishes he could be from somewhere else.  We can't say this any more strongly – we're still keen to recruit the right people, wherever they're from, and we'll fight our hardest to make sure that doesn't change.