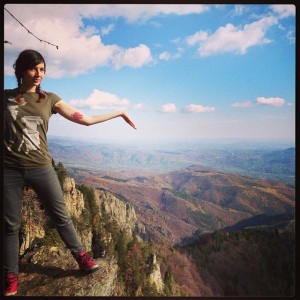 Adna is an über happy PhD student in the Grubb Lab who loves to write about herself in the 3rd person. Should the science gods allow it, she will hand in her thesis in September 2015.
Adna initially dabbled in neuroscience as part of her BSc Cognitive Science at the University of Westminster. This was followed by a full immersion into the field during her MSc in Neuroscience at Kings College London.
In 2007 Adna won a spot on a prestigious 4 year PhD program sponsored by the MRC in Developmental Neurobiology from Kings College London. After spending the 1st MRes year doing rotations in the Houart, Grubb and Keck labs you can hopefully guess where she decided to do her Phd.
As part of her PhD, Adna is trying to shed some light on AIS development in a new model organism- the zebrafish. As a hobby she does some electrophysiology on the side.
Some of her less sad hobbies include: running, travelling to cold places and telling people off for not turning lights off. Oh yes, she is also Romanian, which apparently means that she has the amazing ability to eat the last biscuit from a pack.  This is a skill that British people traditionally lack.