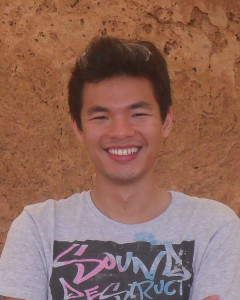 Menghon joined the Grubb lab in April 2017. His BBSRC-funded project is to investigate the connectivity of adult-born dopaminergic neurons in the olfactory bulb. Before joining the lab, he was at the University of Cambridge doing a PhD in Clinical Neurosciences focusing on axon regeneration and spinal cord injury under the supervision of Prof. James Fawcett and funded by the Cambridge Trusts. Since 2016, he has been an elected member of the Royal Society of Biology (MRSB). He was thrilled to be back at his alma mater, King's, where he studied BSc (Hons) in Neuroscience and graduated with First Class Honours. During the second year of his undergraduate, he spent the entire year as an exchange student at the University of California in San Diego where he was living the Californian '90210' lifestyle.
Menghon is from Malaysia where having good tasty spicy food for every meal is a way of life. Even after living in the UK for 10 years now, he is still finding hard to get used to the local 'British cuisine'. Despite having spent his years growing up under the tropical sun, he is not a big fan of the sun at all. Oddly enough, he genuinely loves the gloomy and mild British autumn. Additionally, he is also a true multilingual who speaks fluent English, Malay, Mandarin, Cantonese, Hakka (one of the Chinese varieties), and an intermediate level of Spanish and French.
See Menghon's publications here!