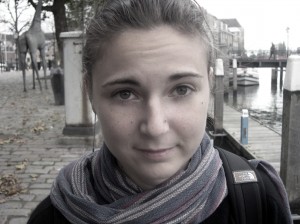 Elisa is the newest addition to the Grubb lab, joining the group in November 2013 as a postdoc.
Elisa trained at the University of Pavia (BSc Biology, MSc Neurobiology) with Prof. D'Angelo as a cellular electrophysiologist, where her first principal interest has been investigating the cerebellar computation at a cellular and synaptic level. For her graduate studies she then moved to the De Zeeuw laboratory in Rotterdam where under the supervision of Freek Hoebeek she received a complete training in cellular, system and behavioural neuroscience. Such varied expertises allowed her to study how learning and memory occur at both the cellular and behavioural level, and how specific genetic lesions in selective cerebellar components affect synaptic plasticity and motor learning. The five papers that resulted from these projects constitute the body of her doctoral thesis entitled "Questioning the cerebellar doctrine", which she successfully defended in Rotterdam in front of an impressive committee of neuroscience experts (see picture below).
Thanks to a Sir Henry Wellcome Postdoctoral Fellowship Elisa will spend the coming four years investigating experience-driven plasticity in bulbar dopaminergic interneurons and the effects of such plastic modifications on the first synapse in olfaction and on olfactory behavior under the mentorship of Prof. Gordon Shepherd (Yale). While being mostly based at King's, she will spend some time in the Cragg (Oxford), Murthy (Harvard) and Lledo (Pasteur) laboratories to tackle the different parts of her project.
See Elisa's publications here!