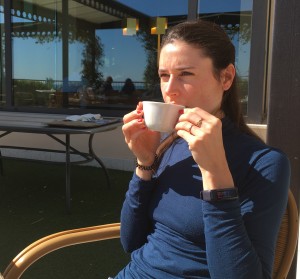 Eleonora joined the Grubb lab in July 2017 as a Research Technician.
She studied at the University of Pavia for both her BSc in Molecular Biology and her MSc in Neurobiology. In the last year of her studies Eleonora, benefitting from the Erasmus Exchange program, spent six months at the Erasmus MC in Rotterdam where she did the experiments for her Masters thesis.
The love for neuroscience and for the discovery of new cultures landed her in 2009 in Berlin where she undertook the strenuous path towards her PhD at the Charitè, in the Institute for Cell and Neurobiology, under the supervision of F. G. Wulczyn. Her project dealt with the characterization of miR-128 both in the developing and adult mouse brain. There with trials and errors and the help of boss and colleagues she learnt a great deal about development and started to gain some in depth knowledge of neuronal plasticity, circuitry and networks.
What she learnt about plasticity and networks intrigued her so much that she moved to UCL in 2015 to join Tara Keck's lab. Eleonora's project aimed to see if diet during gestation can influence the structural plasticity of the adult offspring. At the end of 2016 she joined briefly Francesca Cacucci's lab where she helped to set up the in utero injection technique.
Eleonora loves travelling (except she hates packing), reading, practicing yoga, hiking in the mountains, and above all spending time with her husband and Cleo the cat.