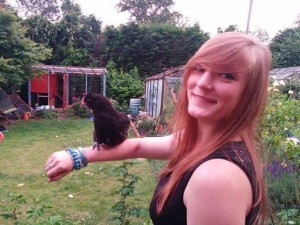 Christiane (pronounced Chris-tea-ann-ah) joined the Grubb lab in September 2015 after doing rotations in two other labs as part of the 4 year MRC sponsored PhD program in Development Neurobiology. For her BSc, Christiane did a joint biology with psychology degree at Royal Holloway, University of London. She then went further to do an MSc in research at Royal Holloway where she used the social amoeba Dictyostelium discoideum as a model organism to develop an assay for amyloid precursor protein in a non-animal model.
After dabbling in psychology, biology, molecular biology and an odd choice of model organism, Christiane decided that electrophysiology was her calling (after discovering that she was able to do it) finding her new home in the Grubb lab. Her project is all about figuring out what external tufted cells are doing in the olfactory bulb circuit and how they are able to change.
When she's not looking down microscopes, measuring currents or reading papers Christiane likes to spend the little free time she has playing with/being attacked by her cats Private Mittens and Mishka, reading (books) or looking up pictures of puppies on the internet.